The final budget that was hammered out last week by Cuomo may not have been as great as he says. In fact, a careful examination may reveal that Andrew Cuomo went a bit too far. His overreach may have set the Ed Reform movement
back
by a few years and not forward. Let's move past the smoke and mirrors, past the anger and fear and let's let reason and ration have its moment. Let's take a look at just exactly what Cuomo actually accomplished last week.
Teacher Evaluations
This is Cuomo's third attempt at 'perfecting' the teacher evaluations. His third! Each time he has tried, he has blamed someone else for his failure. This time, he blames the union(s).
Testing (AKA 'student growth') portion
In truth, one test currently counts for as much as 25%. This is according to the expiring law. In addition to that, the state's biggest district -the NYC DoE- and a great many other smaller districts, try to avoid using a second test.
Instead, that one state test- counts for 40%. They do this by examining the data in a different way. "20%" of the teacher's score is derived from examining the results from 'all' students. The other 20% (currently called the 'local' portion) examines results from one sub group, such as the "lowest third" of the students in that teacher's class.
The point here is that the same test is currently examined and results from that test count toward 40% of the teacher score.
This is the way things currently are under the 'old' Cuomo evaluation system.
Now I could take 5,000 words to lay out the different scenarios of what may change under the new evaluation system, but that would be a waste of time. Instead, I'll just point to two changes.
A) A district can
choose
a second measure created by SED if they want. Many districts will choose to count the same test a different way, just as NYC does now.
B) The growth does not have to be a test.
That last part is important and it is an actual, bona fides, improvement. It means that report card grades and teacher generated assessments may (may) also be counted toward our student growth score, if NYSED so decides. It means attendance and student surveys may be counted toward a score. It means oddles and oddles of multiple measures.
I've followed the evolution of these evaluations very carefully for many years now. If you ask me, the union here in the city always wanted "
growth
" to mean something more than just a test. So what else could reflect growth?
Scholarship reports reflect
growth
.
Student attendance in class is reflective of
growth
(middle school and high school).
Test scores on class are reflective of
growth
.
Tripod surveys by students and parents are reflective of
growth
.
All of that is
data
too and I think union leadership always wanted that to be part of the 'other 20'. You see, after the Bloomberg years, where city teachers were subjected to career ending ratings from principles, many of which were rooted in no fact at all, the city teacher union wanted to embrace an approach where teachers were protected by a thousand multiple measures -none of which cold, alone, kill their careers. If you're asking me (and you should) it was always the UFT's philosophy to take power away from the principal when it came to teacher evaluations. Lots and lots of multiple measures accomplishes that task.
So imagine a student growth score worth 40% (or even 50%). But within that "Growth Score" 20% may come from a state test and 20% may come from measures that are not tests at all. This possibility, which died in many different districts for many different reasons back in 2011, is now back on the table. We may be looking at less tests and are more simpler ways to measure student 'growth'.
Tests are great for the edreformers! Less tests will set the movement back by at least a few years.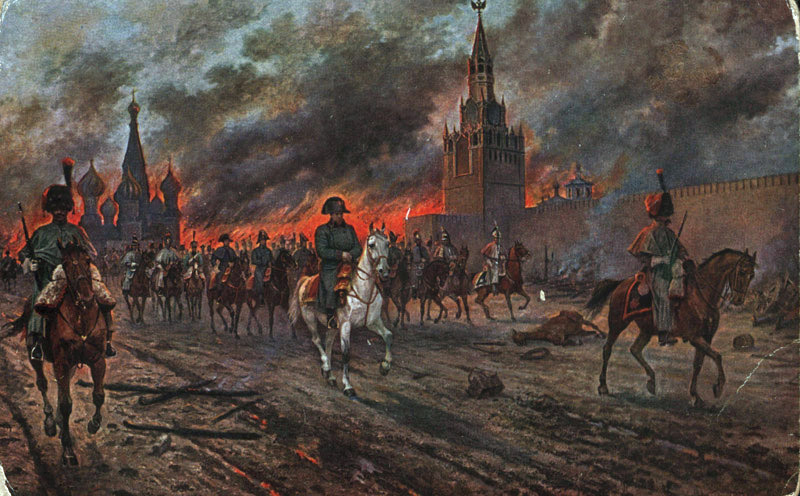 History fun fact: Napoleon made it to Moscow,
but at such a great cost that he eventually lost his empire.
Independent evaluators
(I love how deformers all say that education needs to follow the business model and then go and implement some practice that no business anywhere uses!!)
In the private sector, an independent evaluator is a lot like an auditor from a different firm coming in to tell you what kind of job you're doing and then give you a performance review rating. No company conducts their employee performance reviews in this manner. There are two reasons for this:
1) It hurts employee morale and
2) It is completely unsustainable!
Outside
of the city, the independent evaluators will create a new thick layer of bureaucracy that will, ultimately, result in higher school taxes for property owners and job layoffs of district employees. That's what will have to be done in order to pay for these evaluators!
Inside
New York City the process of independent evaluators could cost as much as $18.75 million! Here is a quick cost estimate (straight off the top of his head) from the very brilliant Harris Lirtzman;
"There are 75,000 City teachers. Let's assume that it will cost, all-in (including direct fee, administrative costs, time and travel reimbursement) around $250 for each evaluation. That's $18.75 million. If the City's principals, who have a few other things to do, switch off on the observations, it would cost less directly but create havoc in school systems. "
Yes, this is going to be painful for our profession. Yes it will ultimately hurt kids. But think about the long term consequences of this for just a moment!
The fact is that the governor has created a mess both financial and bureaucratic. that will not ever go away! That mess will come back to haunt
him
, not us.
The evaluator plan will stink up the room in New York State and it will continue to stink up the room for years to come. Ultimately, he will be forced to pull the plug on it or he will have to face the electoral consequences of raising property taxes and laying off teachers.
The plan is as silly as China's 'Great Leap' and, while it may be painful in the short term, it will cost great political credibility to anyone who proposes another stupid, hair brain idea to 'fix' public education in the future. The next idea that comes down the pike will, at least, be subject to scrutiny before being enacted.
Teacher Tenure
This has already been a super long post (thanks, by the way for reading this far) but Cuomo's instance on teacher tenure just gave us a victory overCampbell Brown. That's correct!!!
Is it me, or does this cartoon of the Fonz
jumping the shark look like Cuomo?
Ms. Brown's lawsuit is directed at a law that will be dead as of September 1, 2015. You see, Ms Brown's suit claims that a specific law -the teacher tenure law- violates the Equal Protections Clause of the US Constitution.
Well, you can't sue a law that no longer exists, now can you?!!??
At minimum, they'll have to alter their complaint to reflect the 'new' teacher tenure law. In reality, this new law hasn't had any time to 'damage' anyone!
Now there are real changes to tenure. If you're rated' ineffective' for a third time, the district now
must
place you through a hearing (at a high cost per 3020 hearing, this would be another unfunded mandate handed down by Cuomo). And if you're 'ineffective two times, you're at risk of being placed in one if the district so decides. Finally, new teachers will have to wait one extra year. All of that is bad and will hurt us. But that lawsuit posed a greater risk to tenure than most folks, with few exceptions, understand and having the legs cut out from under it by this new reform law actually ensures that tenure, even this watered down version, isn't going anywhere anytime soon. This guy Cuomo just bungled the biggest attack on teacher tenure that we have faced in 40 years!
There is a point where you go too far. Before that point, you've got all the credibility and political strength in the world. After that point, you loose your credibility, even strength, and can accomplish almost nothing. Napoleon
successfully
occupied Moscow. Fonzie
successfully
jumped the shark. Now Cuomo has
successfully
passed this budget. The result? Our students may take less tests, legislators will be less responsive to voting for his ideas (now that 694 school districts will blame him for massive property tax hikes and/or teacher layoffs) and tenure -once greatly threatened by a lawsuit he supports- is now safer than it was before.
I doubt this is what he had in mind when he claimed his great 'victory' last week. In fact, I doubt he'll realize the extent of his screwup until after a few years (Napoleon didn't realize exactly how screwed he was until after he actually occupied Moscow). But this will be the result.